Site creation
To get your business on the Internet you can choose from several options.  How do you know what works for you?  That totally depends on the purpose of your website and what your intentions are for the information. 
A blog is an online journal, where entries are listed by date published. This works well if you have a lot of information or news to share with your audience or community. A blog is more personal and informal, for example:  http://www.multiculticooking.com/
A blogsite is a blog with static pages to display more permanent information such as, an About or Contact page. The blog itself can be used to provide updates or news. This site is an example of a blogsite.
A static website has pages with permanent information and is also known as a brochure site. This type of site is used by for example, restaurants, corporations, institutes. Example: http://www.campbellfamilychiropractic.com/
You can find more information on this post I wrote about the choice between a website and a blog.
To create blogs and other websites for my customers I use WordPress, the most popular and easy to manage blogging platform.  
Comparison of blogs and websites:
| | | |
| --- | --- | --- |
|   | Blog | Website |
| Content | Dynamic | Static |
| Purpose | Regular news updates | Brochure site |
| Content Management System (CMS) | Easy to learn and update | Webmaster updates only, unless built with WordPress |
| Software | WordPress –  web application (access with any internet connection) | Desktop application (access only from PC with application) or WordPress |
| Search Engine Friendly | Yes, due to fresh content from news updates (search engines love it) | Less likely, because static content becomes 'stale' and may be 'skipped' by search engines. |
What's next after you decide which site fits your needs?
First, you'll need a domain name (internet address) for your site. 
Next, get webhosting to house the content of your site at this address.
Confused? Don't worry, I can help with buying your domain and webhosting.
Complete the

website questionnaire

to provide more details about your business and website preferences.
  Hire me for web services to create the site and upload content and pictures you provide.
You will have your very own site on the internet in 4 weeks or less!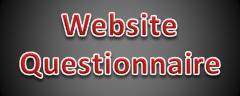 Tip:  Get a free domain with your hosting plan at  Bluehost.com (affilliate link). 
See a sample of clients' sites here.
Other services
Blog customization and maintenance
Customization includes adding a logo, changing colors, etc. to match your business image. Maintenance includes any updates after initial set up, such as pages, posts or updating plugins (backend of your site).
Tutoring
Learn to manage your WordPress site (1-2 hours included with Business packages). Get more knowledge of software programs like Microsoft Word, Excel, PowerPoint, Outlook, and Internet browsers. Sessions can be in person, by phone or via internet.
Virtual assistant
Need help purchasing your domain and web hosting? Want to proofread or translate your site content? I'm here to assist with that too!
Go to the Catalog page to review and purchase items mentioned above.
Still have questions? Contact me here any time; I am ready to get your blog or website up and running!