Over the years I have tried several tools to track my time when working on freelance projects. It's by trial and error that I figured out what I really needed for my type of business. Small businesses want efficient, but economical tools and with the Internet the options are almost endless.
At first MyHours.com was okay to track my hours, but when I was applying it as a timesheet for employees, the limitations soon became obvious and I realized that I needed another, more flexible tool.
Since I love troubleshooting and doing research, I went online and found some interesting tools that offered a lot more features than My Hours.  Some were free (with limitations) and some came with a price tag that was still appealing to a small business owner. There was Traxtime, Slimtimer, Toggl, Timedoctor, but I finally decided to go with Paymo.biz.

Their free account is not (like most others) a trial, but gives full functionality of the application. Of course it has some limitations in regards to number of users or invoices to submit, but there are various pricing plans to fit the budget of any size small business.
The Paymo dashboard looks simple, but appealing and the fact that I could set up a free account with up to three users, manage client and project data, and submit a few invoices per month made this tool a good fit for my needs. I could track my own time and that of employees and contractors from any computer with internet access, create quick reports to save in PDF format, easily integrate tracked hours into an invoice and send the client a link to the invoice without having to attach in an email.
To track time on my own computer a small desktop app was available for download and installation, eliminating the need of going on the internet to log in. Once connected, the app automatically synchronizes logged time into the account. Taking this a step further, there is also a free iPhone app to track time with your iPhone so now you don't even have to be at your computer!
I really like Paymo and I'm still using it, however, forever browsing on the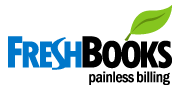 Net, I found another app review on one of my favorite blogs that looked more useful for tracking and invoicing my own hours. Freshbooks is very similar to Paymo, includes free and paid accounts and multiple users, however, since it was probably created after Paymo, it provides more up to date tools and is less restricted.
The best thing about Freshbooks is that I can offer my clients the option to pay their invoice online with a credit card or PayPal! And boy does it work! The first time I used it, my client paid their invoice the same day I sent it. Who would not love THAT! Needless to say: I was sold!
But it gets even better! You can also use Freshbooks as an accounting or bookkeeping tool and it integrates with other online tools such as Basecamp (project management), MailChimp (autoresponder), PayPal (to accept online payments), and more.
I also like being able to create an invoice for other units than hours. For translation projects I charge per word, if not a minimum flat fee. This applies to fees for web services as well. It is something I missed having in Paymo so I am very happy I found Freshbooks!
Even though I like and use both applications at the moment, each serving their own purpose, one for time tracking of employees/contractors and the other for tracking and invoicing of my own business services, I may end up switching completely to Freshbooks. Unless a better product comes along…

Do you use or know of another time tracking/invoicing/accounting tool? Please, feel free to share in the comments below. Thanks for visiting today!