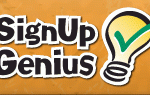 Forget about the days of playing telephone or email tag with your group when trying to coordinate an event. Or updating and distributing spreadsheets with the schedules. Introducing: SignUp Genius!
When I was trying to help my husband to coordinate the volunteer signups for the emergency team, I knew that  we needed to find a way to:
Ask people for their availability without making calls
Sign volunteers up for one or more shifts
Keep an organized signup sheet
Quickly change the schedule if needed
Share the team schedule
Send automatic reminders so they wouldn't forget to show up.
All of these requirements were based on his experience the year before, when another team member was coordinating the schedules. It often happened that this person would call volunteers the night before to make sure the team was represented. A time-consuming and less efficient process… 
We wanted to use email and internet and avoid making phonecalls to 40+ members (except to those who didn't have access to a computer). A calendar everyone could access was a must and we also wanted to send automatic reminders. All very common things in the business world, but working in a community setting is a lot different.
I knew of online calendars and scheduling tools, but as I was trying to get my head around the best way to approach this project, a friend recommended this tool she used for her son's sportsteam. I decided to check out Signup Genius because who knew, maybe it was more appropriate for this purpose. Plus it was free!
After going through the brief registration process, it was very easy to create a signup sheet. Everything we could think of was available: nice templates, setting up various times per day, more than one shift per event, creating recurring events, no site registration required for volunteers, reminder emails (and/or text messages), quick and easy way to edit or swap shifts, and an online sign up sheet for everyone to see (making a regular calendar obsolete).
What more could we ask for? I was SOLD and I will tell anyone who needs to juggle sign up sheets about this tool, because it is simply the best and easiest I've seen to serve the purpose. And no, I'm not getting paid for this review, I just wanted to share something of value that is free and usable in a community (or business) setting. So take a look, try it out and tell me if you have anything better than Signup Genius!
Happy New Year, by the way 🙂