What can be worse than having an online business and the site being down?
You feel the panic rising in your throat, because 1) it looks really bad, 2) you may be loosing potential customers and money, and 3) how the heck do you fix this SOON!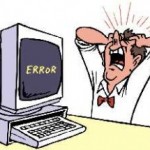 First of all, take a deep breath. Things like this do happen (luckily not often) and it's not the end of the world. Secondly, it's not your or your webmaster's fault, but rather the webhost servers. You cannot fix this problem yourself unless your a tech whiz (calm down) , but you can call your webhost's techical department to help you fix it, quickly.
Yesterday, this happened to one of my client's WordPress site and they thought they broke their site. I googled the 500 internal server error and found out that it wasn't uncommon and easy to fix (yay!).
So I called Bluehost (affiliate link) and the technician quickly found out what the problem was. Now that's what I call excellent service!  Awesome, … except that he couldn't fix it right away, because the servers were in Back up mode and running very slow. So I had to call back a few minutes later and sure enough, he was able to fix the problem in 5 minutes!
For some 'unknown' reason, the htaccess file was corrupt and showed lots of garbled characters. This could have been caused by installing and uninstalling the plugins I was trying out for the client (so be aware when experimenting).
How was the problem solved? Adam, the Tech, deleted the content of this corrupted file and simply copied the htaccess code from one of my other working WordPress sites and pasted it in the corrupted file. He saved it and yes, the site was back up again in a few minutes!
Here's the link at "Ask Leo" where I learned more about the 500 internal server error.
Pfff, another webmaster problem solved!