I regularly browse the web to find inspiration for my topics and as I was doing this a couple of weeks ago, the article about a "successful optimist" on Entrepreneur.com jumped out at me. Why? Because I like to look at the positive side of things and I could very much relate to the topic. Unfortunately, I got wrapped up in other projects and didn't write the article as planned so it got on the back-burner.
Weeks later, as I was getting my daily news fix, I encountered not one, but two other articles about the very same topic! Now I really felt the pressure of doing something with this topic and that's how this post was born.


I hope you can find some pearls in this post too, because it specifically applies to our business, language and attitude.
The first article on Entrepreneur.com relates to the language you use in business (and personal life). Remember the question: Glass half-empty or half-full? And, You get what you ask for? (or in this case say)
Some studies have proven that being optimistic brings you positive stuff, while pessimism leads to a less desirable outcome, the one you predicted yourself ….
Apparently:
Optimists earn more and are more loyal.
Optimists with a good sense of reality can make more money.
Pessimists on the other hand are more accurate about reality, however optimists will be more creative and not give up easily.
Pessimist (sometimes necessary) are unfortunately more depressed.
Optimists easily  move on because they believe in options.
While it may not be easy, it would be ideal to have a mix of both to benefit your business or personal life. It's good to get the real picture but still see options where others don't. There are always options, always!  You just have to see them!
Read the full Successful Optimist article here.
The second article on Freelancefolder.com is about what message we are sending out in our communications.
If you want a positive, don't be negative because your (potential) customer will perceive it as such.
Turn a negative into a positive and leave the not's out of your communications. Say: "call me now" vs "don't hesitate"
More on the 'How negative of a freelancer are you' article.
The third article was on Lifehack.org and it gives some ideas on how to deal with negative people.
don't get into an argument, it may be a waste of energy
empathize, don't advise, they will figure out the solution on their own
lend a helping hand, sometimes an offer is all they need
keep the topics light, unless you don't want to hear the end of things
don't feed negative comments
praise positive things they do
include more people in your circle so you can 'share' negativity
be responsible for your own perception (are you the one being negative?)
avoid them if you don't have another choice!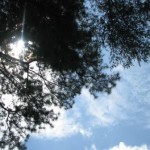 (funny how we can't get out of negatives at times 🙂 )
Full article of dealing with negative people.
The sky is blue, not pink, and even if it's grey the clouds have a silver lining. Really, go look for it!