While it's been quiet on this blog for a while, it was by no means a sign of inactivity in life and business. I never understood how some people can say that they're bored because there is "nothing" to do… I wished I could use their time for all the projects I'd like to finish before I kick the bucket!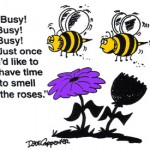 Some of the things that happened since the last post included, the house getting painted, a new garage door installed, planning and celebration of a big birthday, hosting several guests from abroad, attending a wedding and vacationing in South America, all while assisting my customers with their WordPress site, email newsletters or eBay listings. In the next posts I'll be highlighting some of these sites and how they were customized for the client.
They say Summer is a quiet time for business as many go on vacation or take a break from their busy lives. It is however a good time to plan and be ready for the next season. Whether you use the time to come up with ways to find new clients or provide more and better services, there is always something you can do to improve and grow your business.
Summer is almost over, have you done your homework?